ORMAND BEACH, Florida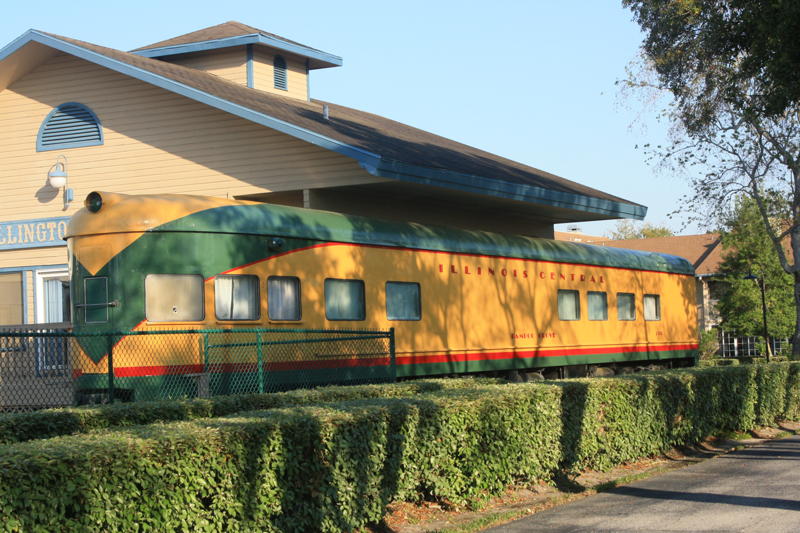 Less than 90 miles from us, in Ormond Beach, there sits a remarkable railroad memento of the dawn of the modern era of Florida tourism when, as the Great Depression of the 1930s eased, the fast streamlined air-conditioned coach streamliner opened the state as a year-round vacation destination for the common man and his family. The attached photos, taken recently by Al Pfeiffer of Dayton Beach, depict the observation tavern-lounge car "Bamboo Grove" of the Illinois Central's all-coach City of Miami as it appeared in tropical colors when the train was inaugurated in 1940, operating on an every-third-day schedule between Chicago and Miami over the rails of the IC, Central of Georgia, Atlantic Coast Line and Florida East Coast. Today, the car is part of the activities center of the Wellington Station condominium in Ormond Beach.
Seasonal all-Pullman trains such as the famous Orange Blossom Special and Florida Special continued to serve the well-to-do bound for Florida's warm-water beach playgrounds for another twenty five years, although in declining numbers. But it was the year-round coach streamliner such the Silver Meteor, Silver Star, Champion, Dixie Flagler, South Wind and City of Miami (followed decades later by economical coach accommodations in jet aircraft and family car convenience on Interstates 95 and 75) that fostered today's billion-dollar tourism economy in the state.
Bill Howes