Marianna & Blountstown RR & #444
Marianna & Blountstown Steam Locomotive #444, is a 4-6-0 Ten Wheeler. It is on display in Blountstown, Florida. It was constructed in 1911 by the Baldwin Locomotive Works. It was previously owned by Savannah & Albany Railroad Co. before coming to the M&B. The M&B Railroad operated for 63 years (1909 - 1972) between Marianna and Blountstown. It provided passenger service until 1929. The M&B shipped agricultural products and lumber. During its operation, the 29-mile line was Florida's shortest railroad.
Marianna & Blountstown #444
Builder:
Baldwin Locomotive Works
in 1911, as a
4-6-0 Ten Wheeler for Brimson Railroad.
Sold to: Savannah & Albany, then to Marianna & Blountstown, and on display at Blountstown FL.
Blountstown is 45 miles west of Tallahassee.
Click on any image for a larger view. These photos were taken in the Spring of 2001.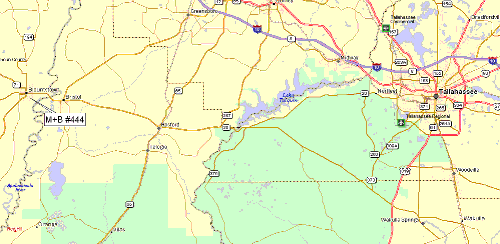 M & B RAILROAD

For 63 years (1909 - 1972) the Marianna and Blountstown Railroad was Calhoun County's link to the railroads and commerce of the nation. Sometimes known as "Many Bumps" or "Meat and Bread," the M&B had a significant impact on the lives of Calhoun Countians.

Editor's note: Marianna is in Jackson County to the north with a railroad connection to the L&N, now CSXT.

Until 1929, before automobile travel was commonplace, the M&B provided passenger service. Farmers used the railroad to ship a wide array of agricultural products. In the early years, logging spurs extended into remote areas of the county and millions of board feet of long-leaf pine lumber were shipped from local sawmills. The M&B also carried mail, manufactured goods and building products.

During its operation, the 29-miles-long line was Florida's shortest railroad. Until 1938 it ran 16 miles farther south to Scotts Ferry. Steam locomotive No.444 was in operation when the M&B's first diesel engine arrived in 1947 and rests today on the exact location of the M&B roadbed.